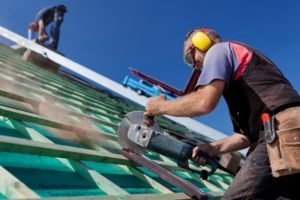 Do you need a roof contractor in Vero Beach that you can rely on for the best services? You'll be glad to know not only will you get dependable service, you'll also get a fair and affordable price from us. Give us a call now. Our roofers will take your roof from busted to beautiful before you know it.
Superior Roofing Services
Do you need service for your roof? You'll be glad to know we offer a wide variety of services.  Here's what you can get from us:
New roof
Reroofing
Roof replacement
Roof maintenance
Roof repair
We specialize in both commercial and residential roofing projects. We have the experience you need to get the job done right the first time. Whether you're planning on replacing your roof or need a leak fixed, you'll be glad you called us.
When to Get Roof Repair or a New Roof

Not sure if you need roof repair? Maybe it's time to replace your roof and get a new one. Here are some reasons to call us to evaluate your roof and find out exactly what you need.
Busted Roof Tiles/Shingles
Missing Roof Tiles/Shingles
Clogged Gutters
Leaky Roof
Water Damage
Mold Growth
Curling Shingles
Roof Over 12 – 20  Years Old
The main thing to remember is to call us sooner than later. Roof problems don't get better on their own and they don't stay static either. In fact, the longer you let your roof sit in disrepair, the worse it'll get. Your roof protects your home and your family. You deserve one that you can count on all the time.
Serving Vero Beach
You can depend on us for the very best service in Vero Beach and the immediate area. The following list includes some of the towns in our service area.

Vero Beach
Palm Bay
Port St. Lucie
Fort Pierce
Melbourne
Fellsmere
Sebastian
Rockledge
Our service area includes all of the above towns, and the nearby areas. Call us to see if we can come out to you, even if your neighborhood isn't listed. We look forward to serving you today.
Call Our Roofers Today for Superior Services
Family Owned
Fully Insured
Quality Workmanship
Friendly Staff
Professional Roofers
Reliable Services
The Best Materials
Fair and Reasonable Prices
When you use our services, we take care of everything. You won't have to worry about anything. You can count on us for excellent services for competitive prices. We'll be there when you need us the most.
Call Us for an Estimate Now
Call us now for superior roofing services in Vero Beach from our roof contractors. It doesn't matter if you have a single family home or an office building. You'll get an incredible roof from us.  You'll get a fair price from us. We look to hearing from you.
We also serve Ft. Pierce, Fellsmere, Melbourne, Port St. Lucie, Palm Bay, Sebastian, and Rockledge.