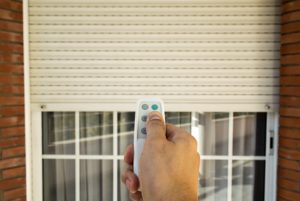 Are you on the lookout for a reliable hurricane storm shutter installer in Fellsmere, FL? The great thing is you can get just that for a great price when you partner for us your next installation. You'll be glad to know that we always get the job done right the first time and provide a wide variety of shutter styles and brands. The bottom line is you'll get what you need from us, whether you need one shutter replaced or a complete installation for your entire home or business. Call us for a fair quote today.
Get Your Shutters Installed Today
Are you ready for hurricane season? Is your home properly protected? Taping your windows is unsafe and will not protect you in a storm.  Storm shutters are smart way to keep your house secure during extreme weather situations. That's because if your windows are not properly protected, hurricane force winds can get into your home and possibly blow your roof off your house. Here's a few reasons you may want to get them installed today:
Increased Storm Protection
Improved Property Value
Prevents Water Damage
Better Home Security
Do yourself a favor and get your storm shutters installed well before hurricane season begins. When everyone else is in a panic, you'll be glad that your shutters are already up and running. You'll know how to use them, and will have given yourself time to see if they need any adjustments. Trust us when we say, you don't want to be in a home improvement store buying plywood 2 days before a hurricane is going to hit. It's extremely crowded and stressful, and is something you'll be happy to avoid.
Shutter Replacement Services
Shutter Installation
Shutter Replacement
Shutter Maintenance
Shutter Repair
Why Use Our Services Today
Family Owned
Fully Insured
Dependable Services
Only Quality Materials Used
Fair Rates
Proudly Serving Fellsmere
You can call us for service in Fellsmere and the nearby area. Our immediate service are includes:
Fellsmere


Port St. Lucie
Palm Bay
Fort Pierce
Vero Beach
Melbourne
Sebastian
Rockledge
We serve all of the surrounding towns and cities of the above areas. Call us even if your town isn't listed. We may be able to see you today.
Call Us for an Estimate Today
Give us a call us today for fantastic shutter services in Fellsmere for your home or business. We look forward to serving you today.
We also serve Ft.Pierce, Melbourne, Palm Bay, Port St. Lucie, Rockledge, Sebastian, and Vero Beach.