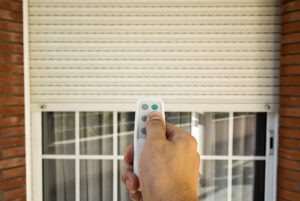 Do you want dependable hurricane storm shutter installation in Rockledge, FL for an affordable price? You'll be glad to know that your search is over. That's because you can get that and more when you use any of our storm shutter services. You can get the shutters you need, because we provide a wide variety of styles and brands. Whether you need a few shutters installed or all of your shutters replaced, you can depend on us for service when you need it the most. Call us today for a fair estimate. We look forward to making your project a success.
Benefits of New Storm Shutters
If you live in Florida, then you know that hurricane season is a yearly event. A hurricane could strike at any time during that time of year. That's why it's important to keep your home safe and secure. Taping your windows isn't going to do the trick. Not only does taping your windows offer no protection from hurricane force winds or wind blown debris. In fact, it makes the situation more dangerous, because then you run the risk of large shards of glass flying through your home. The best form of protection you can get are quality hurricane storm shutters. They keep your windows and doors  safe and secure. Here's what you can expect:
Improved Storm Protection
Higher Property Value
Curbs Water Damage
Better Home Security
Don't wait until it's too late to get your hurricane shutters installed. Get them installed ahead of hurricane season. This will give you time to get used to them, see if they need any modifications, and learn how to safely open and shut them.
Dependable Shutter Services
Here are just some of the services you can get from us:
Replacement
Installation
Repair
Maintenance
Improvement
No other general contractor will give you the same level of service that you get from us. All of your needs will be met when you partner with us.
Serving All of Rockledge, FL and the Surrounding Cities
Rockledge
Fellsmere
Port St. Lucie
Palm Bay
Fort Pierce
Vero Beach
Melbourne
Sebastian
What Sets Our Services Apart
Family Operated Business
Fully Insured Services
Reliable Services
Quality Materials
Competitive Rates
Get a Fair Estimate Today
Call us now for a fair estimate for hurricane storm shutter installation in Rockledge. We look forward to making your project a success.
We also serve Ft. Pierce, Fellsmere, Melbourne, Port St. Lucie, Palm Bay, Sebastian, and Vero Beach.