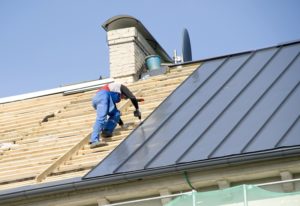 Want a local roof repair contractor in Palm Bay for your home or business? Is getting a competitive price for new roof construction or roof repairs important to you? You'll be glad to know that you'll get that and more when you partner with us for your next roofing project.  Whether you need a small repair or a completely new roof, you can count on us for the best services in the area. Simply put, we're committed to excellence.  Call us today for a fair estimate.
Get These Services from Our Local Roofers
You can count on our local roofing company for:
New roof
Reroofing
Roof replacement
Roof maintenance
Roof repair
Don't put off replacing your roof until it's too late. You deserve a safe and secure roof during hurricane season.
Get Roof Repair or New Roof Replacement

Not sure if you need roof repair or a new roof? Here are some of the common signs that your roof needs to be evaluated. Some of the signs can be seen from the outside of your home, while others can only be seen by taking a look in your attic. Be sure to bring a flashlight with you.
Damaged Roof Tiles/Shingles
Missing Roof Tiles/Shingles
Clogged Gutters
Leaking Roof
Water Damage
Mold Growth
Curling Shingles
Roof Over 20 Years Old
Don't know the age of your roof? Look through your home improvement documents to find out that the last time it was replaced. If you just got your home, the previous homeowner may have given you these documents when you bought the home.
How Much Does a New Roof Cost?
This is going to depend on a number of factors. The size of your home and your roofing material choice will factor into the cost of your new roof. The great thing is you'll get a free estimate and a competitive price on your choice.
How to Choose a New Roof for Your Home
Roof cost – All roofing materials come at a different price point and every homeowner has a different budget. You can count on us for a free estimate and a competitive price. Call us today to find out how much a roof costs.
Roof durability – Each roofing material has a different life expectancy. Some roofs last 20 years, while others can last up to 50 years. We'll let you know what to expect from your new roof.
Roof style – Your home a style and you can expect a roof that matches that when you call us.
Roof building codes – Your roof will be in compliance with all building codes.
New Metal Roof Benefits
Metal roofs last up to 40 years, are rust resistant, and require little maintenance. They reflect away heat, which is great for Florida homeowners. They are beautiful and fire resistant.
 Polymer ReRoof Benefits
These roofs are eco-friendly and resemble slate roofs. They require little maintenance and are fire resistant.
Tile Roof Benefits and Costs
Tile roofs are very attractive and durable. They can last up to 50 years and are an extremely classy roof choice.
Shingle Roof InstallationBenefits
Shingle roofs are what you need if you want a lot of color choices. These roofs are durable and last up to 20 years.
Will a New Roof Lower My Insurance Premium?
If your roof is old or in poor condition you may qualify for a discount on your insurance premium. However, this depends on your insurance company and insurance policy. However, you need to let your insurance agent know that you intend to get a new roof in order to find out if you qualify for a discount. Call them to find out specific requirements.
How to Choose the Best Roof Shingle Color
Light colors look cool.
Red and orange compliment sunsets.
Green and grey add a beachy feel.
Any color looks good with a white house.
Dark grey and light grey look good with grey houses.
Brown, green, and grey look good on a white house.
Brown homes look nice with green and grey.
Find a Roofer in the Palm Bay Area
You'll get the best services when you work with us. Here are just some of the towns we proudly service:
Palm Bay
Melbourne
Vero Beach
Fort Pierce
Fellsmere
Port St. Lucie
Sebastian
Rockledge
Call us now for unbeatable serve all along the surrounding areas of the areas listed above and the entire Treasure Coast.
The Best Roofers You Can Call
Here's a few reasons why you'll be glad you called us:
Family Owned and Operated Business
Fully Insured
Reliable Services
Best Materials Used
Fair Prices
Call Us Now for a Free Roof Repair Estimate
Give us a call now for a fair estimate on our roofing services in Palm Bay. You'll get a competitive price for our dependable services today. Our reliable roofers are just a phone call away and are there to answer any questions you may have.
We also serve Ft. Pierce, Fellsmere, Melbourne, Port St. Lucie, Rockledge, Sebastian, and Vero Beach.
If you're struggling with writing an essay It is possible to use paper writing services. There are numerous benefits of making use of a such service. The result is a unique and original piece of writing written by you on your own. Customer support is also provided by professional writers as well as customers service personnel. The agents will help customers through the steps writing services of ordering and will discuss specifics in APA or MLA formatting. A Quality Assurance team will examine the essay to ensure that it is free of plagiarism. They will also cite sources appropriately. The finished product is designed in accordance with the most stringent expectations of academic writing.